Speedycom are the main AVON motorcycle dealer for the High Peak. We welcome callers and also mail order. Fitting service avaliable. Avon Tyres – 100 years of motorcycling excellence!
Avon brings more than a century of motorcycle tyre-making know-how and experience together in their latest tyres – The 3D Ultra range.
Avon made their first motorcycle tyre back in 1911 but the company as a whole dates back to 1885, when Messrs. Brown and Margeston turned a former cloth mill into a rubber goods factory. And as the century turned, they spotted a new opportunity: pneumatic tyres for motorcars.
In 1901 Avon's first pneumatic tyre rolled off the production line and demand quickly grew so by 1911 Avon had diversified into motorcycle tyres, gaining skills that were later put to good use supporting the war effort in the First World War. By 1933 Avon Tyres was in full stride: Rolls Royce specified Avons as standard equipment and the company successfully floated itself on the London stock exchange.
When World War II began all 2500 Avon employees were working to ensure troops were well-supplied, then – once peace was declared – post-war growth was equally rapid. In fact, modernisation saw Avon's output double by 1956 and from that decade began a long line of Avon's sporting successes.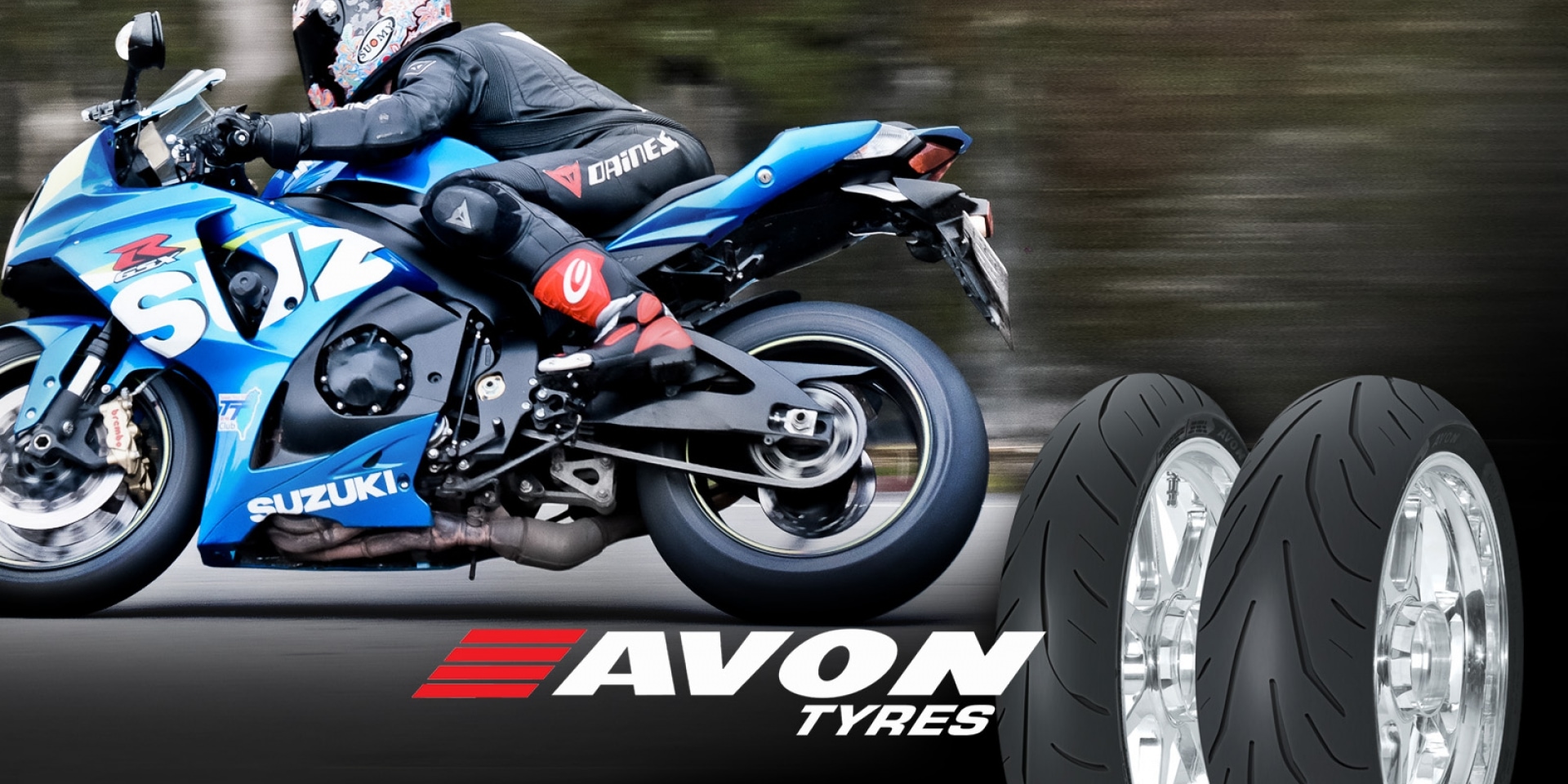 Over the years, Avon tyres have kept racers ahead of the field in everything from grassroots clubman series right up to Formula 1. Every discipline on two wheels, three wheels or four, from Le Mans 24-Hour endurance racing, drag racing, rally-cross, even ice racing. In motorcycling Avon riders have claimed 13 Supersport and four Production class championships, as well as Isle of Man TT victories on both three and two wheels.
Legendary motorcycle racers such as Geoff Duke, John Surtees, Mike Hailwood and Barry Sheene have raced and won on Avon Tyres. More recently Avon Tyres have become the choice in classic motorcycle racing, with riders such as 1987 500cc GP champion Wayne Gardner winning events and championships on Avon tyres. Car racers who've put our tyres through their paces include legendary names such as Ayrton Senna, Juan Pablo Montoya, Keke Rosberg, Jenson Button and Mika Hakkinen.
Throughout the last century, Avon has constantly innovated in the design of motorcycle tyres. During the 1960s, new formulas were conceived to give increased 'cling' to the tyres, increasing grip substantially – especially in the wet. Avon also developed some of the World's first radial tyres for motorcycles, and many of the design innovations you see on today's modern motorcycle rubber from every manufacturer first saw light of day on Avon motorcycle tyres.
Innovation is in Avon Tyres' DNA and it continues to this day with the release of the new 3D Ultra tyres which share some remarkable design advances, including the use of 3D Sipe technology. The 3D Ultra comes in three versions: Xreme for trackdays, Supersport for track and road use and Sport for road-biased riding.


These new sports tyres head-up the Avon range, which cover every machine from sports bikes to adventure bikes and street bikes to scooters.
Avon Tyres are perfect for the blighted highways of Britain – thanks to the British tyre manufacturer's unique Road Hazard Warranty scheme. Avon Tyres are so confident in their product, that – if the tyre becomes unserviceable as a result of hitting a pothole or by getting a puncture – then a replacement will be offered at no charge. No other motorcycle tyre manufacturer offers such a scheme.
We all know that Britain's roads can be less than perfect, especially at this time of the year. Following a cold winter, snow and rainwater falls into cracks in the road surface, this then expands when it freezes, causing cracking of the road surface itself. This 'freeze and thaw' effect causes lasting damage to the Tarmac of British roads, meaning that January and the following months can mean more potholes and surface hazards to avoid – which are potentially dangerous for motorcyclists and which can end up in damage to tyres, wheel rims or worse.
Figures for motorcycles are difficult to pin-down, but potholes are a major factor in causing damage which costs motorists an estimated £2.8 billion every year. Around £50 million of compensation is paid out due to poor roads annually, while it is thought that road maintenance in England and Wales is under-funded but around 50% or £1 billion every year.

But, with Avon's Road Hazard Warranty, bikers can be confident that – should the worst happen – they will get a replacement tyre, as long as the claim is made during the first 1mm of the tyre's life and a certificate of fitment has been filled in by a valid and recognised Avon dealership. So, whether it's a puncture or pothole damage you will have the peace of mind of Avon Tyres' Road Hazard Warranty. This scheme covers all of Avon's road-going motorcycle tyres, including the winter rider's favourite, the Storm 2 Ultra and the new 3D Ultra Sport and Supersport tyres.