SWM Motorcycles - Made with Pride and Passion in Italy

Speedycom Performance LTD are delighted to be the SWM dealer for The Peak District to East Manchester area. We are a big fan of the SWM range, and we believe that SWM is a perfect fit with our existing range of motorcycles from MV Agusta. We now offer every variation of bike to suit you and your style, all built in Italy (within 7 miles of the MV Agusta factory!) - Come for a look at our showroom, where we will have on display the full 2017 road line-up from SWM.


SWM Motorcycles is a new motorcycle Company inspired by the past, originated from the passion and the technical and industrial competence of Ampelio Macchi and Daxing Gong. Ampelio Macchi, creator of the history of prestigious Italian brands as Cagiva, Husqvarna and Aprilia where he was the technical manager and obtained 51 World titles, 46 with Husqvarna and 5 with Aprilia; Daxing Gong, successful Chinese businessman leader of the majestic Shineray Group that operates in two and four wheeled vehicles, industrial products for agriculture and electricity generators.
Two opposite worlds put together by the same vision and the same will of building high quality motorcycles with an Italian soul, identifiable as time goes by, in a state of the art headquarters and with support of an experienced technical staff grown in a territory rich in motorcycle history and driven by a great motivation.
The encounter between Ampelio Macchi and Daxing Gong has been almost accidental, but the mutual understanding was immediate. Locked by the same love for motorcycles and the identical dream to build a new motorcycle centre in the heart of Europe, a solid centre with wise but ambitious plans.



SWM has a rich off road racing history
SWM Motorcycles is freshly established, but it shows the know-how of a big Company, founded on a good team of skilled technicians that allows to follow and manage directly inside the Italian headquarters any aspect of the motorcycle creation. From engine to chassis, from electronics to style: everything is designed internally with manic precision and the taste and experience of prepared Italian workers. With a 360° know-how, that starts from design and goes to research, development, product tests, quality control, production, distribution.
RESEARCH AND DEVELOPMENT -
R&D is the keystone of SWM activity, based on the long-time experience built in competitions as well, of people who have specific design knowledge about chassis and engines. A prestigious R&D department that works with the most advanced technologies and competent and creative inner sources.
TEST BENCHES -
The checkup of performances and the reliability control made by SWM engineers are supported by state of the art test benches. The traditional and dynamic benches for competition engines, the specific chassis benches, the homologation and anti-pollution benches, the ABS test benches and the global check testing benches at the end of the manufacturing cycle for the final quality certification of the product.
QUALITY CONTROL -
SWM's goal is not only to manufacture motorcycles, is to produce them well, with passion, and to satisfy the clients expectations. That's why the Quality Control department carefully supervises al the products; it's a high level process, with a deep know-how and specific tools. The control is enforced in each step of the project, to obtain an exemplary quality manufacture.
ASSEMBLY PLANT -
The motorcycles assembly is entrusted to a modern and adjustable assembly plant designed to ensure maximum reliability and the best efficiency standards. That's why it's not seen as a simple assembly of parts, but as an accurate composition of elements able to obey the highest quality ranges. The deep technical knowledge, the advanced Italian manufacturing cycle and the soundness of Shineray Group, allowed us to shoot ahead and to be competitive in the market in a short time frame and with well defined plans.

The SWM Gran Milano 440 - A Speedycom Favourite!
Now only £4000 while stocks last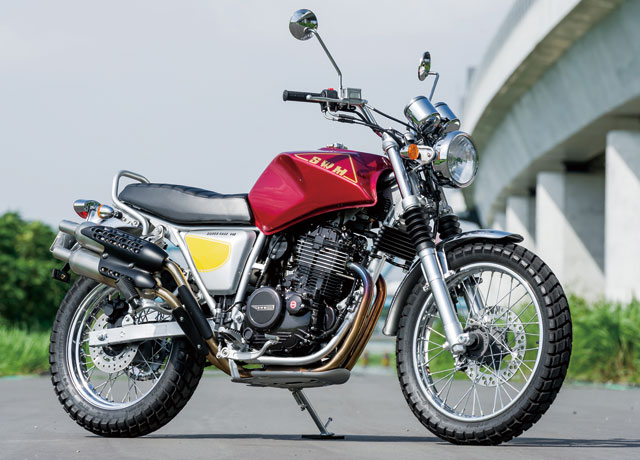 The SWM Silver Vase 440
Now only £4000 while stocks last





Please see below the current range of SWM Motorcycles that will be stocked at Speedycom Performance. Full dealer facilities are available, including competitive finance packages. Contact us on 0129 881 6633 for more details.

We can also supply the Enduro range of SWM Motorcycles - Please contact us for more details.